TAKE AWAY THE GUIDANCE YOU NEED TO SUCCEED.
Navigating today's uncharted education world is tough, but you don't have to do it alone. Private and independent schools are tackling the shifting seas of online/ blended learning in two ways: guidance from global education experts and world-leading interactive education solutions.

There's no better time to get guidance on key topics like maintaining quality instruction, boosting professional development, and enrolment, [Un]charted sessions deliver the answers and inspiration you need to thrive!

Be a part of immersive, game-changing sessions and take away meaningful strategies and rich resources to make an impact today and tomorrow.

THE POWER OF STORY: Using storytelling to accelerate school growth
How strong is your Private or Independent school story?
Watch this session on-demand to learn how to make your school's marketing efforts more compelling through storytelling.
__________________
FEDERAL FUNDING FOR PRIVATE AND INDEPENDENT SCHOOLS
Did you know the Governor's Emergency Education Relief (GEER II) Fund includes $2.75b for non-public schools? This allows schools to apply for funds to pay for personal protective equipment, sanitization, technology related to remote learning, and COVID testing, among other things.
Watch this webinar on-demand and get the Federal Funding Knowledge Guide emailed to you.
______________________
EMPOWER WITH PROVEN, ONGOING PD
With so many students using EdTech remotely, teacher preparation and support are more critical than ever. In a recent study,* only 49% of teachers said they have been trained to use EdTech in innovative ways. Only 25% said they received guidance about which innovations were effective.
* Source: Chapter 8, The Learning and Teaching Outlook by Tim Fish, NAIS Chief Innovation Officer; Margaret Anne Rowe, NAIS Research Analyst; and Jackie Wolking, NAIS Director of Innovation Programs.
Quality teaching and learning is the hallmark
of private and independent schools. Learn how
to elevate engagement and use the power of
connection to maintain excellence during the
Independent school leaders from across the US and Canada gathered in small breakout groups, to discuss the challenges they face in maintaining and growing student enrollment. To access the session summary, click on the link below: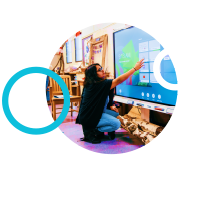 Engage. Connect. Inspire.

There's an interactive solution for every classroom.
The future of education is interactive, and you need solutions built specifically for your private or independent school's challenges, goals and budget. SMART delivers a wide range of world-leading interactive displays that give you the power to connect, collaborate and engage with ease. From budget-friendly options to game-changing innovations, every SMART interactive flat panel blends powerful capabilities with simplicity: SMART displays are easy to use, deploy and support.
Connect your devices and classroom technology, optimize remote learning and give your school the tools you need to inspire teachers and students!
Explore our world-leading interactive display technology.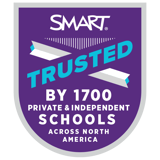 Inspiring greatness by connecting students and teachers for 30 years.