The Lumio Logic Model documents the ways that students and educators use Lumio, the features that make Lumio special, and the expected outcomes from integrating Lumio into learning activities. In addition, our product development leadership team uses this logic model to guide our product roadmap, ensuring that updates and improvements lead to desired learning outcomes.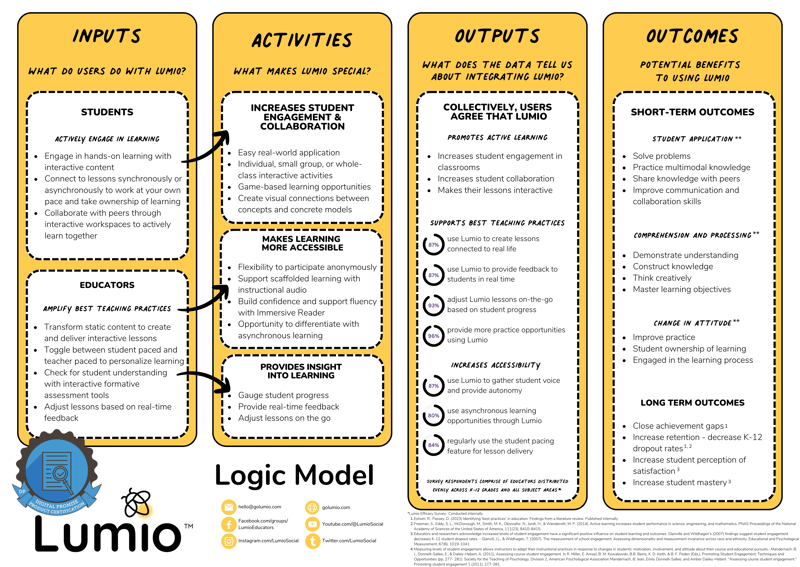 Research-based instructional strategies
supported by Lumio
When choosing technology to use in schools and classrooms, educators look for platforms proven to amplify best teaching practices and actively engage students in learning. Our research shows that educators use Lumio to increase student engagement and collaboration, provide insight into learning, and make learning more accessible. Lumio has earned third-party certification as a research-based certified product from Digital Promise.
Learn more by clicking each card below:
Citations
Astin, A.W. (1984). Student involvement: A developmental theory for higher education.

Journal of College Student Personnel

, 25, 297-308.

Black, P., Wiliam, D. (2009). Developing the theory of formative assessment.

Educational Assessment, Evaluation and Accountability

21, 5–31.

https://doi.org/10.1007/s11092-008-9068-5
Essam, R., & Passey, D. (2022) Identifying 'best practices' in education: Findings from a literature review. Lancaster University, Lancaster.
Freeman, S., Eddy, S. L., McDonough, M., Smith, M. K., Okoroafor, N., Jordt, H., & Wenderoth, M. P. (2014). Active learning increases student performance in science, engineering, and Mathematics. Proceedings of the National Academy of Sciences, 111(23), 8410–8415. https://doi.org/10.1073/pnas.1319030111
Glanville, J. L., & Wildhagen, T. (2007). The measurement of school engagement. Educational and Psychological Measurement, 67(6), 1019–1041. https://doi.org/10.1177/0013164406299126

Hollenbeck, K., Rozek-Tedesco, M. A., Tindal, G., & Glasgow, A. (2000). An Exploratory Study of Student-Paced versus Teacher-Paced Accommodations for Large-Scale Math Tests.

Journal of Special Education Technology

,

15

(2), 27–36.

https://doi.org/10.1177/016264340001500203

Jaggars, S. S., Edgecombe, N., & Stacey, G. W. (2013, April). Creating an effective online instructor presence. Report completed for the Community College Research Center, Teachers College, Columbia University, NY

Mandernach, B. J., Donnelli-Sallee, E., & Dailey-Hebert, A. (2011). Assessing course student engagement. In R. Miller, E. Amsel, B. M. Kowalewski, B.B. Beins, K. D. Keith, & B. F. Peden (Eds.), Promoting student engagement: Techniques and opportunities (pp. 277- 281). Society for the Teaching of Psychology, Division 2, American Psychological Association

Pascarella, E.T., & Terenzini, P.T. (2005).

How college affects students: A third decade of research, Vol. 2

. San Francisco, CA: Jossey-Bass.

Tullis, J.G., and Benjamin, A.S. (2011). On the effectiveness of self-paced learning.

Journal of Memory and Language

, 64(2) 109–118.,

https://doi.org/10.1016/j.jml.2010.11.002