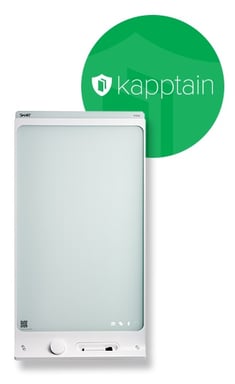 Love your SMART kapp?
The kapptains program is an exclusive new program for our best SMART kapp customers, like you. By joining our kapptains advocacy program, we can recognize you for all the support you give to SMART. By becoming a kapptain, you'll be able to help shape the future of SMART kapp by participating in simple activities from "liking" and "tweeting: to more in-depth activities such as case studies - and you'll get points for everything you do! By signing up for the kapptains program, you'll have:
"Sneak-peek" access to beta products

Join a vibrant community - share your best practices, ideas, tools & tips with like-minded individuals who are using SMART kapp

Access to key individuals at SMART and other SMART kapp customers

Help shape the future of SMART kapp!
As a kapptain, you can participate in activities that not only provide exposure for your company, school or district but can also earn you cool rewards!
Interested in becoming a kapptain? It's easy. Just fill out the form on the right hand side of this page and we'll send you an invite to the program.
Learn more about SMART kapp...
"The investment we made in SMART kapp has easily paid off because it allows me to quickly build concensus, solve problems and build action plans with my team members regardless of where they're located which as been invaluable!"
- Joe Moreau, President, AltaPACS, Inc.
"SMART kapp reduces the amount of unnecessary notes students have to copy down on paper, and it also helps with communication and distribution of materials. I love the fact that our teacher meetings are more productive where brainstorming and note taking needs to happen."
- Kristin Straumann, High School Chemistry and Physics Teacher & Technology Integration Specialist, ACGC Public Schools