Pump-up the Volume Bundles
For a limited time, save up to US $549 on one of our SMART Pump-up the Volume Bundles. These bundles include your choice of SMART Audio classroom system with wall speakers or ceiling speakers + a SMART Board 6000 or 7000 series.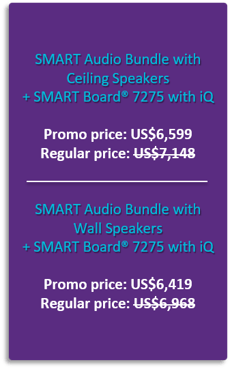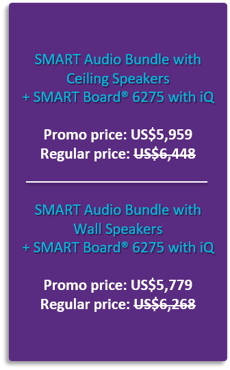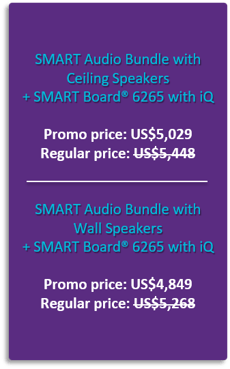 The SMART Audio™ classroom amplification system distributes even sound to every desk. When students can hear teachers and multimedia clearly, they stay focused, engage in classroom discussions and achieve more in school.
| | |
| --- | --- |
| SMART Room bundle for SMART Audio classroom amplification with Ceiling Speakers | SMART Room bundle for SMART Audio classroom amplification with Wall Speakers |
The iconic hub of today's classroom now comes in several more different models. Choose unrivaled interactive displays that bring devices, education software and lesson content together, or a display that simply lets you share your screen. No matter your decision, you can be certain it meets our decades long standard of quality and innovation.
*Offer effective August 1st to Deceber 31st, 2017. Promotion valid in USA only, with the exception of the State of New York. SMART suggested Promotional Price, reseller may sell for less.
© 2017 SMART Technologies. All rights reserved.The SMART logo, smarttech and all SMART taglines and product
logos are trademarks or registered trademarks of SMART Technologies in the U.S. and/or other countries. All third-party product and company names are for identification purposes only and may be trademarks of their respective owners.